---
This is a guest post by Katherine Sullivan from MarketingSolved.com
---
After years of working in digital marketing – I noticed something. I saw a direct connection between the amount of money I made, and the amount of people I had on my email list. When my email list grew, my sales grew.
If you've ever heard the saying: "The money is in the list" – guess what? It's TRUE.
Those dreams of making more money, scaling your business up, and selling while you sleep – will all happen when you have an email list of people who love your brand.
If you want to get your brand out there and sell your products or services – you have to use the tools available to get in front of your ideal audience.
Starting with social media, I'll be the first to tell you that social media can truly build your business. That's exactly how I built my business. However, there are a lot of uncontrollable factors with social media.
There's no guarantee that your fans will see your posts.
There are pesky algorithms that restrict how many people see your content. These algorithms can be a killer for your visibility!
Here's a quick example: If you have 1,000 Facebook fans, Facebook's algorithm is going to determine how many of those fans they will actually show your post to. (And it's usually under 10%!) Say what?! I know. Not cool, Facebook. Not cool. 
Then, there's the fact that with social media – not everyone is going to be online right when you post.
Some people check in the morning, some check in the evening. Some check one day a week, some check every 45 minutes. This means that there is no guarantee that when you post, your fans will see your post. Add in that darn algorithm and ugh. Are you starting to see how it could be a bit more difficult to get in front of your audience?
Finally, with social media – you are at the mercy of  the social networks. If they shut down tomorrow, would you have a way to contact your fans? What if they started charging to reach your audience? Would you be prepared to move forward?
These are all factors that reinforce that you can't build your entire business on someone elses real estate. You have to create your own foundation and home base for your business and you're going to do that with email.
Not only does email marketing give you a guaranteed pathway directly to your clients that you have complete control over, you can also use it as one of your most powerful marketing tools.
And, I'm going to tell you how! (Feel free to start celebrating!)
How to Start Growing Your Email List Quickly
In order to get people to subscribe to your list, you have to give something away. And the best strategy to give something away is to create an awesome lead magnet.
You might be thinking…what the heck is a lead magnet?
It's exactly what it says it is. It's something that will attract (like a magnet) leads to our business. These can be called "freebies" "opt in offers" even "content upgrades" but they all serve the same purpose – attracting your ideal leads to give you their email.
The lead magnet is an offer we want to put out in front of EVERY single person that visits our business with the intent of capturing their email address and adding them to our list. This is to ensure no lead walks away without us taking our relationship to the next level.
This is one of the most important pieces to your growing your email list because it's the first impression you're making with new leads.  So, make it good! Really good. Something they would pay for!
It has to be more than…sign up for my newsletter, it's awesome.
That doesn't get me excited or tell me what value I'm going to get. Not very magnetic, AT ALL!
Think about something that will really help your audience, something they will find insanely useful and give it away for FREE. That will attract the right audience.
Ready to knock the socks off of your visitors and have them throwing their email address at you? (Of course you are – and I like people like you)
Let's look at a few examples of amazing lead magnets that will get your creative juices flowing and your email list growing.
1. BYREGINA
She gives away so much incredible content, it's hard to believe she doesn't charge for it and her lead magnet is no exception. She gives away an 80 page guide showing you "75 Ways to Help Your Brand Stand Out" and I know first hand, this is a lead magnet that you'll save – and use.


2. FEMTREPRENEUR
Grab her 8 day Free Email Course and learn how to "Build a Profitable Blog." She is a pioneer about giving a ton of valuable information away and her email course over delivers. This is a perfect example of identifying what your audience really wants to learn and then giving them exactly what they want.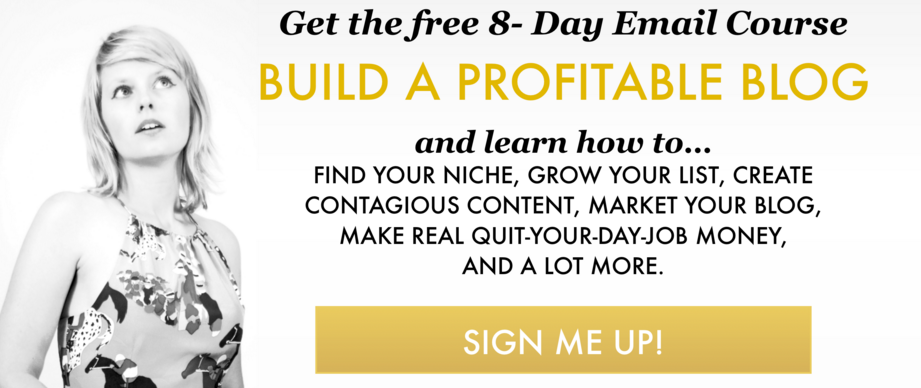 3. MARKETING SOLVED
My "Done For You Social Media Content Calendar" – it also comes with a resource guide to give you ideas for the types of content, and a blank calendar to create your own. This is one of the most popular lead magnets I've ever created and it generates hundreds of subscribers monthly. I looked at everything on the market for content calendars and purposely put something together unlike anything else out there.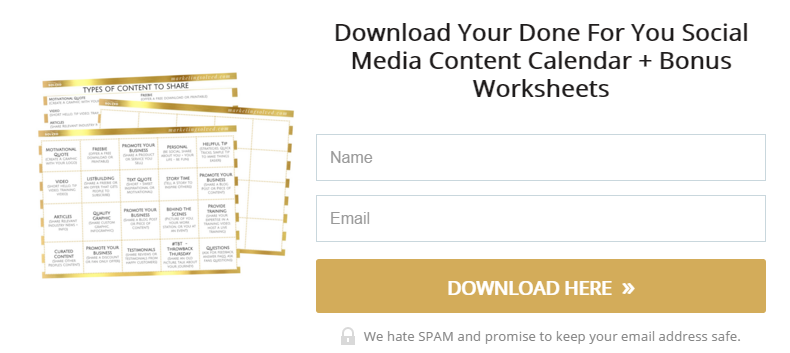 4. SIMPLE GREEN SMOOTHIES
"Free 30 Day Green Smoothie Challenge" They pack a ton of high value content in their 30 day challenge and include everything you would ever need to know about how to make green smoothies; including what to buy and even bonus tips. This lead magnet catapulted their brand and took them from 0 – 200k subscribers in a year. THAT is a high quality lead magnet!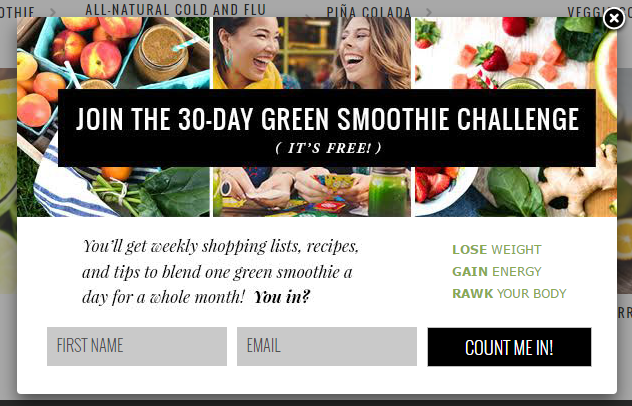 5. NEIL PATEL
Neil gives away a content packed webinar called "The Advanced Customer Acquisition Webinar" giving his experience and insights on how he's built 4 multi-million dollar businesses. Now, I don't know about you – but that is something I'd DEFINITELY hand over my email address to learn.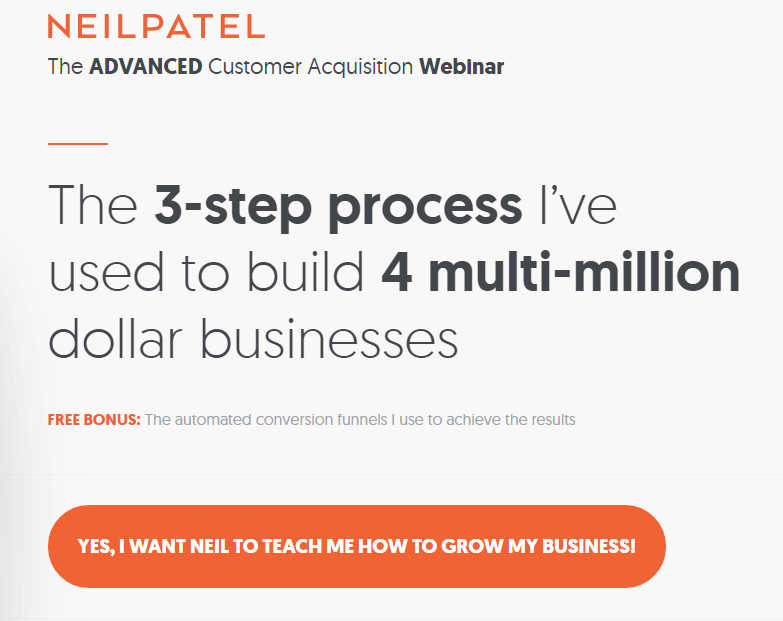 6. THE BRANDED SOLOPRENEUR
Your babe Dre, right here! If you haven't already downloaded- her "Quick and Dirty Guide to Branding for Solopreneur" you should do that now.  It's 25+ pages of need to know information all about branding your business, how to do it, examples, and tons of tips you never would have thought of without checking with an expert. And yup, this bad boy is totally free.
Are you inspired or what? All of these lead magnets have something in common – they work! They're unique, high value, they speak directly to their target audience and they are packed with content that people will actually use. No fluffy nonsense – real, actionable, usable information. That is exactly what you want to have in your lead magnet.
Once you have the highest value lead magnet that your peeps are going to love – it's time to tell people about it. 
How to Promote Your Lead Magnet to Get the BEST Results
This is the fun part!
Once you have your lead magnet, it's time to give it to your people. I'm going to give you three key strategies you can use right away to start growing your list.
1. Social Media Bio's – This is the perfect place to start driving your fans to your subscriber list. Instead of listing your normal website URL – list your lead magnet URL. This way, EVERYONE that visits your social media bio's will click on the opportunity to get their freebie and you will convert them into a subscriber. Win, Win!
2. Social Media Posts – You have to offer it to your people, why not post about it? A key ingredient to growing your email list quickly is to make the offer multiple times. People can't subscribe if they don't know about your lead magnet, so you have to tell them. Make it a point to offer it at least a few times a week – ideally several times a week.
3. Website Pop Up – Pop Ups have a bad reputation for being "annoying" BUT the truth is – they convert. They convert really, really well. And that makes it worth using them to grow your list. They're not difficult to install and you can get a pop up on your site within minutes to promote your lead magnet.
These three strategies can make a serious difference in the amount of people you have signing up for your lead magnet.
But, if you really want to see some quick results…
BONUS Ninja List Building Tip to get you even more subscribers
Your blog! This is a gold mine for you to convert website visitors into subscribers. People are already coming to your site to read your content which makes it the perfect place to promote your lead magnet.
Start by reviewing your website analytics.
Look to see what the top visited posts or pages on your website are.
Go to those posts and promote your lead magnet! Put a note at the top of the post that says "Hey! Are you new here? Be sure to grab our super duper amazing free guide here."
This way – you're making sure that the posts that have the most readers are seeing your lead magnet and you'll have a better chance at growing your email list. Quickly!
WRAP UP
Woohoo Rockstar!
You are well on your way to growing your email list with a quickness. Remember – make your lead magnet irresistible and promote, promote, promote.  
Now, before you go off and start creating the biggest baddest email list of them all, if you have any strategies to add to this list, let us know in the comments below!
---
Katherine Sullivan is a digital marketer and founder of MarketingSolved.com  She helps business owners grow their business by simplifying online marketing to get more leads and sales, every single day.  Join the Marketing Solved Facebook group for more training and a rockstar community of entrepreneurs.
---